BIO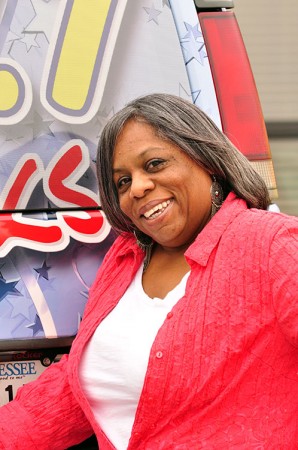 Jennifer grew up in Pasadena, CA.  Less than a mile from the Rose Bowl and JPL. She moved to Jackson, TN in 1995 with her son and never looked back
She's California born and Louisiana bred, raised by her parents like a Southern lady, so she fit right in when she arrived.  Jennifer loves to cook and travel and has been to Mazatlan, Acapulco and plans to travel to Europe next.
Jennifer fell into radio accidentally and discovered another talent.  She loves to cook, give advice and support her family and friends in whatever they are doing. She is a foodie who loves exotic food, to eat and to cook and has sampled everything from bear to rattlesnake. That probably has to do with her Creole background.  Weekends you can find her reading a book, or exploring countless yard sales for vintage jewelry and furniture.  She loves to up cycle.
Jennifer's Fun Facts
Hometown: Pasadena, CA.
Favorite Food: Anything my Dad cooks
Favorite Color: Earth tones (I can't just pick one)
Favorite Ice Cream Flavor: Cookie Dough or Butter Pecan
Favorite Movie: Independence Day (I've seen it at LEAST 500 times)
Favorite time of year: Fall and Spring
Favorite TV show: House Hunters International
Favorite Song playing now: Suitcase by Mary J. Blige
Favorite Artist/Band: Toss up between Isley Brothers and Sade
Favorite Sports team: The Raiders.
What is in your CD player now? Mixtape
Hobby: Shopping for antique jewelry/furniture, reading and making jewelry
What do you do in your free time? Read and make jewelry
Quote to live by: NEVER give up, no matter what. It may get hard, there may be obstacles, but if you keep moving, you have a better chance. NOTHING beats a failure…but a try.
Worst job you ever had: Can't think of 1..was happy to have a job!
Most embarrassing moment: Giving birth..no one tells you EVERYONE and their mother comes in the room!
One thing that you would HAVE to have if you were stranded on a desert island: My sanity
If you could have lunch with one person (living or dead) who would it be? My Mom..she died when I was 16 and I'd LOVE to know what she thinks of who I've become.